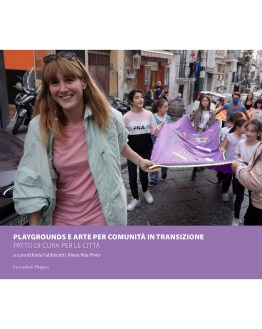 Playgrounds e arte per comunità in transizione (Open Access)
SKU: 9788865428948
Titolo disponibile
Patto di cura per le città
A cura di Katia Fabbricatti, Maria Rita Pinto
ISBN 978-88-6542-894-8
Pagine: 208
Anno: 2023
Formato: 24 x 21 cm
Collana: Recupero, manutenzione e innovazione dell'ambiente costruito, 6
Supporto: file PDF (46 Mb)
Le politiche di sviluppo e gli strumenti per l'attuazione del programma Next Generation EU messi in atto dalla Commissione Europea nel tempo della pandemia di Covid-19 ridefiniscono il quadro di priorità di intervento a scala urbana, puntando su misure sperimentali e azioni pilota in grado di restituire qualità allo spazio pubblico, contrastando sia la povertà ecologica ed economica che quella educativa minorile. Il volume affronta temi emblematici per il recupero dei sistemi insediativi consolidati, riconoscendo all'ambiente costruito il ruolo di incubatore di creatività e di innovazione, con l'obiettivo di approdare a patti di cura per la città. I contributi multidisciplinari presentati nel volume sono stati sviluppati nell'ambito della ricerca Playgrounds e arte per comunità in transizione: patto di cura per le città Play_ACT, nell'ambito del Programma per il Finanziamento della Ricerca di Ateneo FRA 2020 – Linea B dell'Università degli Studi di Napoli Federico II, il cui responsabile scientifico è stato fino al 2022 Serena Viola. La ricerca è stata portata a termine da Giovanni Menna, come responsabile scientifico, da Nicola Flora, co-proponente, da Alfonso Maria Cecere, Gianluigi Freda, Francesca Ciampa, assegnista del progetto, Maria Giovanna Pacifico, aggregati, da Katia Fabbricatti e Maria Rita Pinto, componenti del gruppo di ricerca, con la consulenza scientifica di Flavia Santoianni.
The development policies and the implementation tools of the Next Generation EU Program employed by the European Commission during the COVID-19 pandemic redefine the priority framework at an urban scale. They focus on experimental measures and pilot actions to restore the quality of the urban space and contrast ecological and economic poverty, in addition to the lack of child education. The volume deals with emblematic themes concerning the regeneration of consolidated urban systems, acknowledging the environment as an incubator of creativity and innovation, with the aim of entering into covenants of care for the city. The multidisciplinary contributions in this volume have been developed within the research project Playgrounds and art for communities in transition: a deal for urban care Play_ACT, within the Program for the Funding of University Research FRA 2020 – Line B of the University of Naples Federico II, whose Scientific Coordinator was Serena Viola until 2022. The research project has been developed by Giovanni Menna as the Scientific Coordinator, Nicola Flora as the co-proponent, Alfonso Maria Cerere, Gianluigi Freda, Francesca Ciampa as a research fellow funded by the project, Maria Giovanna Pacifico as an Aggregate Researcher, and Katia Fabbricatti and Maria Rita Pinto as research unit members, with Flavia Santoianni as a scientific consultant.
Recensioni
Nessuna recensione disponibile per questo titolo.