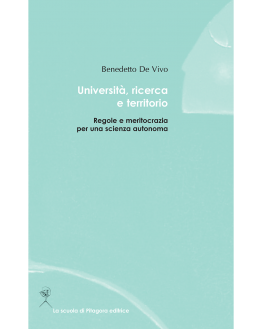 Università, ricerca e territorio (e-book)
SKU: 9788865420539
Product in stock
Regole e meritocrazia per una scienza autonoma
Autore: Benedetto De Vivo
ISBN 978-88-6542-053-9
Pagine: 170
Anno: 2011
Formato: 12,5 x 20 cm
Supporto: file PDF
Una raccolta di articoli, interventi e lettere su tre argomenti di attualità : riforma dell'Università , bonifica dell'area ex Italsider di Bagnoli e rischio vulcanico, sismico e ambientale. Tre temi molto diversi, ma accomunati dalla stessa questione centrale: il rapporto controverso tra scienza e politica, visto da chi, come De Vivo, è animato da due passioni, quella della ricerca scientifica e quella dell'impegno civile.
Il conflitto di interesse dei «baroni» universitari, intenti a gestire i magri fondi per la ricerca secondo logiche di potere, si fa ancora più scottante quando in ballo ci sono la salute dei cittadini e la qualità  dell'ambiente urbano, un ambiente, come quello napoletano, in cui troppo spesso gli interessi dei cittadini, nonché quelli della libera ricerca, soccombono alle lobby affaristiche e alle consorterie politiche.

Benedetto De Vivo è professore ordinario di Geochimica ambientale presso l'Università  degli Studi di Napoli «Federico II» e Adjunct Professor del Department of geosciences presso Virginia Polytechnic Institute & State University (Virginia Tech), Blacksburg, VA, USA. È Chief Editor della rivista «Journal of Geochemical Exploration» (Elsevier) e Associate Editor della rivista «Mineralogy and Petrology» (Springer Verlag). È titolare, presso l'Università  internazionale dell'Andalusia (UNIA, Huelva, Spagna), del corso di Caratterizzazione geochimica dei siti inquinati e analisi di rischio. Ha pubblicato oltre 300 lavori scientifici e cinque libri di testo in prospezioni geochimiche e geochimica ambientale, fra i quali nel 2009 (con A. Lima), Caratterizzazione geochimica di siti, rifiuti e analisi di rischio (Aracne Editrice). Nel 2001 è stato nominato Fellow della Mineralogical Society of America, per particolari meriti scientifici nel campo della mineralogia, cristallografia, geochimica e petrologia.
Reviews
There are yet no reviews for this product.