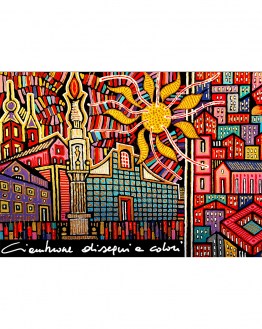 Ciambrone disegni a colori (catalogo)
SKU: 9788865427897
Product in stock
Catalogo delle opere
Autore: Alessandro Ciambrone
Prefazione di Carmine Gambardella
ISBN 978-88-6542-789-7
Pagine: 64
Anno: 2020
Formato: 29,7 x 21 cm
Supporto: file PDF (226 Mb Open Access)
La pittura di Alessandro Ciambrone, architetto e artista, accende riflettori per esaltare la bellezza di monumenti, architetture e paesaggi. Il suo percorso artistico, culturale e scientifico si intreccia negli anni, attraverso numerose esperienze all'estero. Unico vincitore in Italia della Fulbright Thomas Foglietta fellowship 2003-04 sviluppa la sua ricerca finanziata dal Governo USA alla University California Los Angeles. Nel 2007 vince una delle cinque borse di studio al mondo UNESCO Vocation Patrimoine ed elabora un progetto per la valorizzazione del Patrimonio Mondiale in Campania alla University College Dublin e al World Heritage Centre di Parigi. Consegue un dottorato di ricerca in co-tutela internazionale (Università della Campania e Università Paris Ouest Nanterre la Defense). Nel 2014 è nominato direttore del Museo Civico di Arte Contemporanea di Capua e nel 2017 fonda il Museo Civico Internazionale di Arte Contemporanea Euro-Mediterraneo di Castel Volturno. Le sue opere sono state donate alla Fondazione Pascale, alla Fondazione AIRC, alla Fondazione Santobono Pausilipon, all'Associazione Italiana Sclerosi Multipla, al Comune (Assessorato al Patrimonio) e al Centro la Tenda di Napoli, alla Fondazione 'Filomena Gambardella' di Salerno. Ciambrone è ricercatore al Consorzio Universitario Benecon e all'Università Pegaso.
Alessandro Ciambrone. Architetto e Artista. Titolare del brand Museo Internazionale di Arte Contemporanea Euro-Mediterraneo (MIACE). Direttore del Museo di Arte Contemporanea e Cittadella dell'Arte 'Terra di Lavoro' a Capua (2014-15). Uno dei cinque vincitori al mondo della UNESCO Vocation Patrimoine fellowship per un Master Science in World Heritage Management (University College Dublin, UNESCO World Heritage Centre 2007-09). Unico vincitore in Italia della 2003-04 Fulbright Thomas Foglietta fellowship per un progetto di ricerca sullo sviluppo economico del Sud Italia (Visiting Professor at the University of California Los Angeles). Dottore di Ricerca in co-tutela internazionale: Architettura (Università della Campania) e Governo del Territorio (University Paris X). Laurea in Architettura (Università di Napoli 'Federico II', 110/110 e lode). Componente del Comitato Scientifico della Fondazione Real Sito di Carditello. Ricercatore al Consorzio Universitario Benecon (Beni Culturali, Ecologia ed Economia) e all'Università Pegaso: www.alessandrociambrone.it
Reviews
There are yet no reviews for this product.