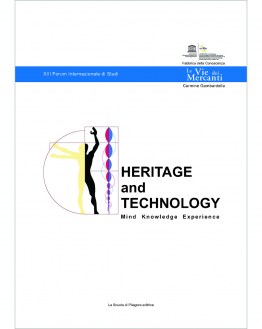 Heritage and Technology
SKU: 9788865424162
Product in stock
Mind Knowledge Experience
Le Vie dei Mercanti _ XIII Forum Internazionale di Studi
A cura di Carmine Gambardella
ISBN 978-88-6542-416-2
ISSN 2464-9678
Pagine: 2522
Anno: 2015
Formato: 21 x 29,7 cm
Collana: Fabbrica della conoscenza, 56
Supporto: file PDF (303 Mb)
Preface
The theme of the thirteenth Forum "Le Vie dei Mercanti" aims to investigate the complex relationship that develops between technological innovation, knowledge, enjoyment and protection of cultural heritage and the landscape. This leads to the need for an international multidisciplinary comparison in order to explore the questions and issues that are being debated not only in academia, but also among those who govern, manage and control Public Administrations, Institutions and businesses.
The subtitle specifies the macro areas: Mind, intended as both speculative thought as well as the preparation of a methodological process; the subject who investigates, establishes an inescapable destiny with the object analyzed at different scales of analysis, from the architectural structure and design, to the infrastructure and the landscape; Knowledge, as the historicizing of the state of the art reached by the disciplinary skills, integrated with those of material culture, humus generative of innovation for the formation of a human capital that continues to grow; Experience, the representation and sharing of results obtained with good practices, exemplary and paradigmatic, as patrimonial value for humanity to achieve a better quality of life and places created working with Art.
The conference is open to multidisciplinary experiences on one or more of the proposed themes. Scholars are invited to present research on either the theoretical and methodological aspects or concrete applications carried out on these issues.
Carmine Gambardella
Reviews
There are yet no reviews for this product.