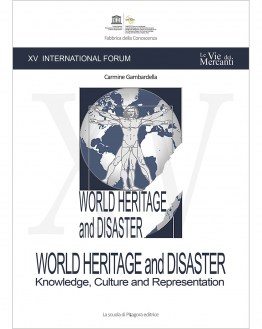 World Heritage and Disaster
SKU: 9788865425824
Product in stock
Knowledge, Culture and Rapresentation
Le Vie dei Mercanti _ XV International Forum
A cura di Carmine Gambardella
ISBN 978-88-6542-582-4
ISSN 2464-9678
Pagine: 1754
Anno: 2017
Formato: 21 x 29,7 cm
Collana: Fabbrica della conoscenza, 71
Supporto: file PDF (297 Mb)
Preface

A theme, that in addition to highlighting the word DISASTER, wants,as in all the editions of the Forum, place the emphasis on the wordCulture, the systemic product of knowledge and applications, whichhas a plastic strength as Nietzsche pointed out, capable of healingbroken parts, to recover lost parts, and as such belongs to humanity,the Man Artifex and Faber in its historical self-reproduction.
A faith in humanity's ability to achieve ever higher levels of knowledgeto offer as patrimonial value, beyond disastrous contingencies, whichcontains reparative stem cells and also fortifies evolutionary processesinvolving the Skills and Work of Man, the fate of Landscapes, Territories,Cities, Architecture and Archaeology as Traces of Geography ofthe past that emerges in the Geography of the Present.
For these reasons, in Naples on 15 and Capri, on 16 – 17 June, the15th "International Forum Le Vie dei Mercanti" will be held. An establishedevent that in three decades has seen the participation of ascientific community from around the world grow, discussing multidisciplinarytopics relating to the Landscape, Cultural Heritage, Governmentof the Territory, Design and Economics.
Therefore, I expect, along with the International Scientific Committee,contributions of studies and research relating to theories, concepts,applications, best practices to protect and preserve, in order to notonly transmit to future generations the tangible and intangible patrimonyof the World Heritage but also to orient the design processesand innovative planning for the modification that derive from thehumus of identities and roots of the places, the regenerating sap ofthe places and of a "new", which, citing Argan, possesses a contemporaryof what it does not have the same date.
The location is exceptional. Campania, with six sites included in theWorld Heritage List, two UNESCO Man and Biospheres, two assetson the List of Intangible Heritage, is one of the richest regions in theworld for cultural and landscape heritage. It is therefore no coincidencethat the Forum will be held in Aversa/Naples and Capri, with visitsto the sites and presentations of operational projects by thescientific community of Benecon*, a University consortium that hosts250 researchers and distinguished professors of five Italian Universities, UNESCO Chair on Landscape, Cultural Heritage and.
Carmine Gambardella
President and Founder of the Forum
Reviews
There are yet no reviews for this product.