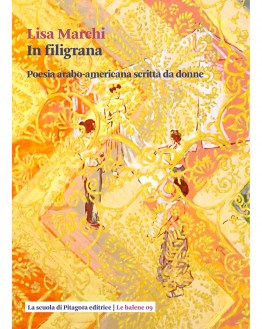 In filigrana. Poesia arabo-americana scritta da donne (e-book)
SKU: 9788865427804
Product in stock
Autrice: Lisa Marchi
ISBN 978-88-6542-780-4
Pagine: 128
Anno: 2020
Formato: 15 x 21 cm
Collana: Le balene, 9
Supporto: file PDF (1.4 Mb)
Prendendo ispirazione dalla raffinata tecnica artigiana nota in oreficeria come filigrana, il volume intende mettere in risalto il minuzioso lavoro di intreccio e saldatura di filamenti linguistici, culturali ed estetici realizzato dalle poete arabo-americane e visibile per lo più in trasparenza nelle loro opere. Per Naomi Shihab Nye, Mohja Kahf, Suheir Hammad e Etel Adnan – si argomenta – la poesia non è mai espressione estetica fine a se stessa, né mero strumento di rivendicazione identitaria e politica, e neppure un mezzo per fornire informazioni su culture lontane rappresentate in modo spiccio come esotiche. Al contrario, la loro poesia si fa carico di dilemmi e preoccupazioni che riguardano l'umanità tutta. Impreziosita con orditi linguistici complessi, arricchita di alleanze interculturali e interrazziali originali, e traforata con aperture inaspettate e dunque sorprendenti, la loro poesia esprime un ethos pacifista e ambientalista destinato a modificare profondamente non solo il modo in cui percepiamo l'umanità, ossia oltre il paradigma Io vs. l'Altro, ma anche il mirabile cosmo che ci ospita.

Lisa Marchi è docente a contratto di Lingua e Letterature Angloamericane presso l'Università di Trento. I suoi interessi di ricerca, concentrati sulla poesia contemporanea statunitense, sconfinano in altre discipline, fra queste le Letterature comparate, gli Studi sul Medio Oriente, le Letterature di migrazione e della diaspora araba, gli Studi di genere.
Lisa ha partecipato ai gruppi di ricerca internazionali Behind the Looking-Glass: 'Other'-Cultures-within trans­lating cultures finanziato da AHRC e Out of the Ordinary: Challenging Commonplace Concepts in Anglophone Literature finanziato dall'Accademia di Finlandia. È autrice di diversi saggi pubblicati, tra le altre, sulle riviste «Ácoma», Intersezioni, Canadian Literature e Comparative Literature Studies. Nel 2021 è prevista la pubblicazione di The Funambulists: Women Poets of the Arab Diaspora con la casa editrice Syracuse UP.
Reviews
There are yet no reviews for this product.