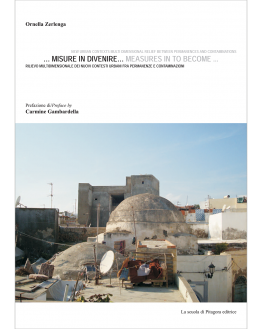 ... Misure in divenire... Measures in to become ...
SKU: 9788889579503
Product in stock
Autrice: Ornella Zerlenga
prefazione di Carmine Gambardella
ISBN 978-88-89579-50-3
Pagine: 88
Anno: 2009 (II ed.)
Formato: 21 x 29,7 cm
RILIEVO MULTIDIMENSIONALE DEI NUOVI CONTESTI URBANI FRA PERMANENZE E CONTAMINAZIONI
NEW URBAN CONTEXTS MULTI DIMENSIONAL RELIEF BETWEEN PERMANENCES AND CONTAMINATIONS
All'interno della formulazione di programmi finalizzati alla riqualificazione dell'ambiente costruito e naturale da sempre il rilievo ha assunto un ruolo preminente di osservazione e lettura critica dei contesti per restituirne una conoscenza orientata al progetto. Il dibattito scientifico-culturale maturato in questi decenni nel campo delle discipline del rilievo e della rappresentazione dell'architettura e dell'ambiente (costruito e/o naturale) ha restituito posizioni partecipate e condivise circa le metodologie e le prassi da adottare nei riguardi di operazioni che della realtà architettonica e ambientale sono state rivolte a restituire la conoscenza in termini di indagini quantitative dei contesti esaminati come la dimensione morfologico-figurativa, lo stato di conservazione, ecc. A questi interrogativi, il protocollo procedurale e l'innovazione tecnologica nel settore del rilevamento strumentale (sempre più potente, quest'ultimo, rapido e preciso nelle sue acquisizioni e restituzione di dati) hanno assicurato indiscusse risposte autorevoli.
Ma oggi nuove riflessioni investono l'area del rilievo e della rappresentazione dell'architettura e dell'ambiente circa le modalità del suo operato e i risultati da perseguire … le cose cambiano velocemente … ed è rispetto a nuovi scenari in divenire che la cultura del rilievo deve misurarsi per rispondere su quali conoscenze debba oggi assicurare nella sua azione di confronto critico con le risorse e le aspettative di un territorio.
Reviews
There are yet no reviews for this product.