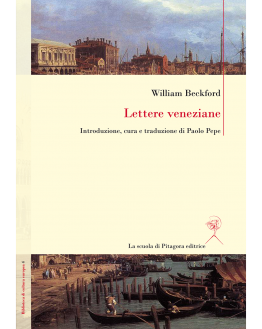 Lettere veneziane (e-book)
SKU: 9788865421413
Product in stock
Autore: William Beckford
introduzione, cura e traduzione di Paolo Pepe
testo inglese a fronte
ISBN 978-88-6542-141-3
Pagine: 128
Anno: 2012
Formato: 15 x 21 cm
Supporto: file PDF (2.07 Mb)
Agli inizi di aprile del 1783, Dreams Waking Thoughts and Incidents, il volume che raccoglie le memorie di viaggio di William Beckford, è pronto per la pubblicazione. Il giorno 15 dello stesso mese di aprile, perà², cedendo alle pressioni familiari, Beckford ritira l'intera tiratura e la brucia. Delle cinquecento copie stampate ne salva appena sei, che custodisce  nella biblioteca di famiglia, a Fonthill, a disposizione di pochi selezionati amici. Dreams vedrà  la luce solo nel 1834, puntigliosamente revisionato da Beckford nella forma, nello stile e nel contenuto, come primo volume di Italy; with Sketches of Spain and Portugal, incontrando favore di pubblico e di critica.
Qui si presentano in traduzione, tratte dall'edizione del 1834, le lettere relative al soggiorno a Venezia, la tappa iniziale del viaggio in Italia. Su Beckford, giovane colto e raffinato, nutrito delle atmosfere malinconiche dei canti di Ossian, smarrito nei mondi favolosi delle Mille e una notte e dell'Orlando Furioso, la Serenissima esercita un fascino straordinario, suscitando impressioni potenti, alimentando fantasie che nella pagina scritta si traducono nella prima vera rappresentazione letteraria di Venezia come città  «orientale», luogo a un tempo fisico e sospeso. Una città  in cui il giovane Beckford si riconosce e alla quale si abbandona. Venezia: ambigua e sensuale, fragile e decadente, eterea e carnale.
William Thomas Beckford (1760-1844), l'autore di Vathek: An Arabian Tale (1786), è una delle personalità  letterarie più versatili e controverse dell'Inghilterra di fine Settecento. Scrittore di racconti, di romanzi e libri di viaggio, musicista per diletto, bibliofilo, collezionista d'arte, soprattutto detentore di una delle maggiori fortune d'Europa, Beckford visse una vita per molta parte segnata dall'eccesso, fino a quando, in seguito a un grave dissesto finanziario, nel 1822, non decide di ritirarsi a Bath.

Recensioni:
La nuova Venezia, 3 gennaio 2017
Carmilla, 21 gennaio 2017
Recensione di Alberto Toso Fei del 20 marzo 2017

Reviews
There are yet no reviews for this product.