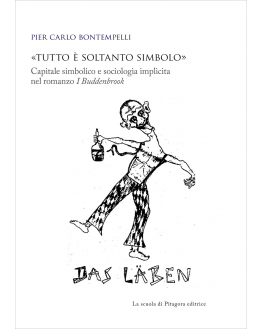 «Tutto è soltanto simbolo»
SKU: 9788865423400
Product in stock
Capitale simbolico e sociologia implicita nel romanzo «I Buddenbrook»
Autore: Pier Carlo Bontempelli
ISBN 978-88-6542-340-0
Pagine: 174
Anno: 2014
Formato: 15 x 21 cm
Collana: Biblioteca di studi umanistici, 6
Supporto: libro cartaceo
Nella sua attenta ricostruzione del microcosmo borghese di Lubecca nel XIX secolo, I Buddenbrook di Thomas Mann si presta come pochi altri romanzi a una lettura che ne valorizzi la capacità  di rappresentare le varie articolazioni del sociale. Basandosi sulla sociologia di Pierre Bourdieu, questo volume propone alcuni percorsi di socioanalisi del romanzo. Il primo capitolo ricostruisce la strategia di posizionamento di Mann nel campo letterario coevo in relazione alla genesi e alla ricezione dei Buddenbrook. I capitoli successivi offrono una lettura sociocritica di alcuni episodi, personaggi e conflitti tematici del romanzo, volta a ricostruire la complessa rete di distinzioni, classificazioni sociali e dinamiche di dominio che Mann mette in scena. Infine, il volume analizza l'ordine simbolico che ruota intorno all'etica del lavoro, proponendo una lettura parallela dei Buddenbrook con altre due grandi narrazioni coeve della borghesia protestante, quelle di Max Weber e Werner Sombart.

Pier Carlo Bontempelli è professore ordinario di Letteratura tedesca presso l'Università  «Gabriele d'Annunzio» di Chieti-Pescara. Si è occupato di teoria e storia della germanistica, della cultura letteraria del naturalismo tedesco e della Repubblica di Weimar, delle politiche culturali del nazionalsocialismo, e delle applicazioni del pensiero sociologico allo studio della letteratura e della cultura. Fra le sue opere principali, Knowledge, Power, and Discipline. German Studies and National Identity(University of Minnesota Press, 2004) e SD. L'intelligence delle SS e la cultura tedesca(Castelvecchi 2006).
Reviews
There are yet no reviews for this product.