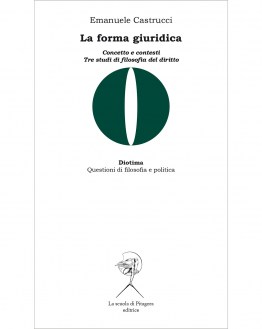 La forma giuridica. Concetto e contesti (e-book)
SKU: 9788865427699
Product in stock
Tre studi di filosofia del diritto
Autore: Emanuele Castrucci
ISBN 978-88-6542-769-9
Pagine: 208
Anno: 2020
Formato: 11,5 x 19,5 cm
Collana: Diotìma. Questioni di filosofia e politica, 28
Supporto: file PDF (1.7 Mb)
Tre studi, tra loro tematicamente collegati, inquadrano il problema filosofico della forma giuridica da angolazioni diverse. Nella prima parte, mettendo in luce in termini generali le implicazioni del rapporto tra il concetto di forma e il concetto di decisione; nella seconda, analizzando la pluralità dei significati che il concetto di forma giuridica assume all'interno di una teoria della costituzione; nella terza, ponendo l'idea di forma elaborata dalla dottrina giuridica in relazione con l'analisi del processo economico nel contesto storico della grande crisi europea dei primi anni '30.
Ne deriva la messa a punto, sotto il profilo specifico della filosofia del diritto, di un tema che trae origine da un concetto classico della storia della metafisica: una messa a punto che si rivela tanto più opportuna in un'epoca come quella contemporanea, in cui la tensione all'informale, che costituisce uno dei tratti ricorrenti nella cultura del Novecento (dalle arti visive alla musica, dalla letteratura alla giurisprudenza), sta lentamente mutandosi in una deriva inarrestabile verso l'informe, producendo tanto nella prassi sociale quanto nella riflessione teorica gravi ed evidenti effetti di disorientamento.

Emanuele Castrucci (Monterosso al mare, 1952) ha pubblicato con La scuola di Pitagora Nomos e guerra. Glosse al "Nomos della terra" di Carl Schmitt (2011). Più recentemente, presso altri editori: Le radici antropologiche del 'politico', Rubbettino, 2015; On the Idea of Potency. Juridical and Theological Roots of the Western Cultural Tradition, Edinburgh University Press, 2016; La teoria indoeuropea delle tre funzioni in Georges Dumézil e altri saggi, Giuffrè Francis Lefebvre, 2019.
Reviews
There are yet no reviews for this product.