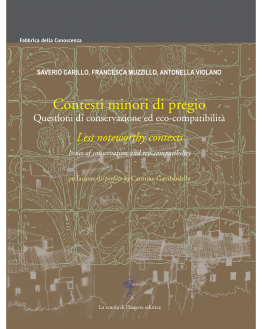 Contesti minori di pregio
SKU: 9788865421345
Product in stock
Questioni di conservazione ed eco-compatibilità
Autori: Saverio Carillo, Francesca Muzzillo, Antonella Violano
prefazione di Carmine Gambardella
ISBN 978-88-6542-134-5
Pagine: 128
Anno: 2011
Formato: 20 x 26 cm
Supporto: libro cartaceo
In un momento storico di crisi sistemica e di grandi cambiamenti strutturali e comportamentali, il valore dell'intelligenza creativa e l'impegno individuale possono facilitare il salto dell'umanità  verso «habitat» sempre meno globalizzati e sempre più a misura d'uomo e pacifici.
Le diverse esperienze progettuali rappresentate in questo volume individuano altrettanti percorsi/tracce alla ricerca coerente di una progettualità  che non è solo un saper fare, frutto della cultura tecnica e della prassi compositiva, ma anche un saper essere, frutto della conoscenza approfondita dei legami materiali e immateriali tra esigenze dell'uomo e caratteri del luogo. Così le tecniche costruttive tradizionali, da protocolli per individuare modalità  di intervento sul costruito storico, si trasformano in processualità  metodologica, capace di aperture al 'problema' dell'habitat contemporaneo attento al benessere del fruitore diretto.
In a historical period of systemic crisis and major structural and behaviourial changes, the value of creative intelligence and individual commitment can facilitate humanity's leap towards a «habitat» that is less globalized and more peaceful as well as on a human scale.
The different design experiences represented in this volume identify numerous paths/traces in search of a consistent design approach that is not only able to do, the result of technical and compositional practices, but also knows how to be, the result of an in-depth knowledge of the tangible and intangible ties between human needs and the features of the place. Thus, traditional building techniques, from protocols to identify ways of intervening on historical buildings, become a methodological processuality, capable of opening up to the «problem» of the contemporary habitat attentive to the welfare of the direct user.
Reviews
There are yet no reviews for this product.