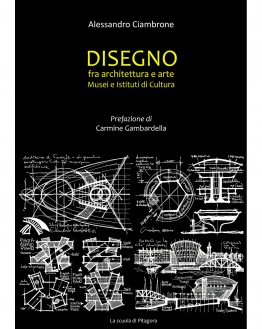 Disegno fra architettura e arte (open access)
SKU: 9788865427842
Product in stock
Musei e Istituti di Cultura
Autore: Alessandro Ciambrone
Prefazione di Carmine Gambardella
ISBN 978-88-6542-784-2
Pagine: 125
Anno: 2020
Formato: 14,8 x 21 cm
Collana: Fabbrica della conoscenza, 80
Supporto: file PDF (78 Mb)
Il lavoro scientifico di Alessandro Ciambrone descrive con annotazioni critiche e disegni di studio elaborati a mano libera Musei e Istituti di Cultura, considerati capolavori dell'architettura del XX secolo, per il loro valore simbolico, per la capacità di avviare processi di rigenerazione territoriale che hanno coinvolto le comunità locali, e perché emblematici della poetica architettonica dei loro progettisti.
La descrizione delle opere e la loro rappresentazione attraverso elaborati a mano è influenzata dalla formazione accademica e professionale, particolarmente articolata e pluridisciplinare, dell'architetto Ciambrone, con importanti esperienze scientifiche all'estero. Nel 2003 si aggiudica l'unica Fulbright Thomas Foglietta Fellowship in Italia per lo sviluppo economico delle aree meno industrializzate del Mezzogiorno. Il progetto premiato prevede un'analisi comparativa fra i processi di rappresentazione alla grande scala territoriale, simulando scenari previsionali per le fasce costiere di Napoli e Los Angeles (University of California Los Angeles, Department of Urban Planning, 2003-04).
Dalla Prefazione di Carmine Gambardella
Reviews
There are yet no reviews for this product.