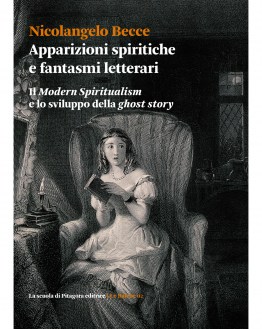 Apparizioni spiritiche e fantasmi letterari (e-book)
SKU: 9788865425046
Product in stock
Il "Modern Spiritualism" e lo sviluppo della "ghost story"
Autore: Nicolangelo Becce
ISBN 978-88-6542-504-6
Pagine: 264
Anno: 2016
Formato: 15 x 21 cm
Collana: Le balene, 2
Supporto: file PDF (2.8 Mb)
L'epoca di massima fioritura della ghost story, tra la seconda metà  dell'Ottocento e i primi anni del Novecento, coincise con la rapida ascesa e il travolgente successo di un fenomeno culturale, il Modern Spiritualism, che si sviluppò in principio intorno a medium e sedute spiritiche, ma giunse poi a coinvolgere scienziati, filosofi e capi di stato. Negli anni in cui la ricerca scientifica si occupava seriamente di apparizioni spettrali e messaggi dall'aldilà, in che modo il lettore medio si accostava alla lettura dei racconti di fantasmi? E qual era il confine tra un «autentico» resoconto di apparizioni e un racconto di fantasmi «verosimile»? Attraverso la lettura di testi di alcuni fra i maggiori autori di ghost stories, come Théophile Gautier, Iginio Ugo Tarchetti e Henry James, il presente volume analizza le influenze reciproche tra i racconti di fantasmi del turn of the century e i coevi resoconti di apparizioni spiritiche. Tramite il recupero di temi e motivi che in quell'epoca, ai confini tra realismo, religione, fantastico e superstizione, erano in grado di determinare la verosimiglianza e credibilità  di una storia di fantasmi, il libro propone una rilettura dello sviluppo della ghost story che ricostruisce e reintegra il contesto culturale e discorsivo nel quale tale genere letterario raggiunse il suo apice espressivo.


Nicolangelo Becce ha conseguito il dottorato di ricerca in Letterature Comparate presso l'Università  di Napoli «L'Orientale», e attualmente insegna lingua inglese e letteratura angloamericana presso la University of Fukui (Giappone). Oltre che di Modern Spiritualism e della narrativa di Henry James, si è occupato di letteratura asiaticoamericana e di serie TV americane. Attualmente unisce alla ricerca letteraria gli studi nell'ambito della Second Language Acquisition e della valutazione linguistica basata sul Quadro comune europeo di riferimento per la conoscenza delle lingue (QCER).

Recensioni
L'Indice, maggio 2017

Reviews
There are yet no reviews for this product.