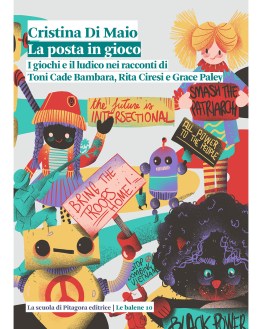 La posta in gioco
SKU: 9788865428283
Product in stock
I giochi e il ludico nei racconti di Toni Cade Bambara, Rita Ciresi e Grace Paley
Autore: Cristina Di Maio
ISBN 978-88-6542-828-3
Pagine: 312
Anno: 2021
Formato: 15 x 21 cm
Collana: Le balene, 10
Supporto: libro cartaceo
Cosa spinge i giocatori e le giocatrici a giocare? Quali obiettivi si prospettano all'orizzonte, e con quali mezzi si è disposti a raggiungerli? E anche: esiste una posta a cui ambire, se si sceglie di non stare al gioco? Ma soprattutto: qual è la posta in palio, nel raccontare storie di giochi e di ludico? Questo volume approfondisce tali questioni nei racconti della scrittrice afroamericana Toni Cade Bambara (1939-1995), dell'italoamericana Rita Ciresi (1961-) e dell'autrice di origine ebrea russa Grace Paley (1922-2007). Esaminando le rappresentazioni dei giochi (attività inquadrate in una cornice spaziotemporale definita, con mosse e ruoli chiaramente individuabili ed esiti misurabili) e del ludico (la performance di un'attività riconoscibilmente giocosa, ma non inscritta in una cornice formale rigida e dagli esiti non misurabili), il libro ne evidenzia l'intreccio con le categorie di genere, razza/etnicità e classe, e indaga criticamente l'uso letterario dei giochi e del ludico interpretandone la ricorrenza tematica e il rapporto con la trasgressione come una strategia estetica dal preciso intento socio-politico.
Cristina Di Maio ha conseguito un dottorato di ricerca in Studi Linguistici, Filologici e Letterari presso l'Università di Macerata e insegna Letteratura angloamericana presso l'Università di Torino. Ha ricevuto il premio "Agostino Lombardo", borse di studio e fellowships da università e centri di ricerca internazionali, e ha pubblicato saggi su Grace Paley, Toni Cade Bambara, Angela Carter, Charlotte Perkins Gilman e Mary Bucci Bush. I suoi interessi scientifici includono la teoria del gioco, la letteratura americana moderna e contemporanea, la teoria femminista e la letteratura italoamericana.
INDICE
Ringraziamenti
Preambolo
Introduzione
In principio era il gioco
1.
Di cosa parliamo quando parliamo di gioco: breve rassegna di teoria ludica
Le origini
I padri fondatori: Johan Huizinga e Roger Caillois
Evoluzioni teoriche novecentesche su gioco e ludico
2.
Metafora e sconfinamenti. Strumenti teorici per una critica ludica
Il corpo in gioco: il carnevalesco di Michail Bachtin
L'estetica ludica rivoluzionaria di Herbert Marcuse
Il gioco come eterotopia in Michel Foucault
Erving Goffman e la 'membrana porosa'
The Grasshopper, ovvero lezioni di gioco da una Cicala morente
Collisioni tra ludico, liminale e liminoide in Victor W. Turner
Pierre Bourdieu e la teoria del campo sociale
Un'ipotesi di percorso teorico: i giochi e il ludico attraverso l'eterotopia, la soglia ed il/la guastafeste 
Forme ludiche dell'arte nei racconti di Bambara, Ciresi e Paley 
3.
Biografie ludico-letterarie
Toni Cade Bambara
Rita Ciresi
Grace Paley
4.
Eterotopie di gioco/ludiche in Toni Cade Bambara
Duelli e giochi verbali in "The Hammer Man"
e "Christmas Eve at Johnson's Drugs N Goods"
Le conseguenze del gioco
in "The Lesson" e "Raymond's Run"
La musica come eterotopia ludica in "My Man, Bovanne",
"The Apprentice" e "Witchbird"
Conclusioni: il gioco e il ludico attraverso lo specchio
5.
Configurazioni del gioco e del ludico in Rita Ciresi
Breve analisi tipologica del gioco in Rita Ciresi
Il gioco come rituale e la 'linea del colore' in "Why Girl"
Cianfrusaglie, ere glaciali e imitazioni: i limiti del gioco
in "The Little Ice Age"
Il ludico oltre la norma in Mother Rocket
e Sometimes I Dream in Italian
Conclusioni: alle soglie del gioco e del ludico
6.
Giochi e guastafeste nei racconti di Grace Paley
Giochi pericolosi in "A Subject of Childhood"
Enormous Changes at the Last Minute: "Samuel" e "Faith in a Tree"
La politica è un gioco da grandi?
"Anxiety" e "Ruthy and Edie"
Ludicità eccentriche in "Politics",
"A Conversation With My Father" e "Listening"
Conclusioni: lo strappo alla regola
7.
La posta in gioco: un'analisi della trasgressione
Sconfinamenti autoriali. Bambara, Ciresi e Paley come guastafeste eccentriche
In conclusione: commenti finali sul gioco e sul ludico
Bibliografia
Indice dei nomi
Reviews
There are yet no reviews for this product.