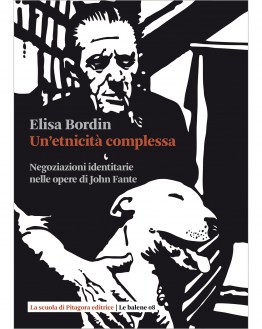 Un'etnicità complessa (e-book)
SKU: 9788865427439
Product in stock
Negoziazioni identitarie nelle opere di John Fante
Autore: Elisa Bordin
ISBN 978-88-6542-743-9
Pagine: 240
Anno: 2019
Formato: 15 x 21 cm
Collana: Le balene, 8
Supporto: file PDF (2.1 Mb)
Questo volume prende in esame lo scrittore californiano di origini italiane John Fante, proponendo nuove letture critiche della sua produzione letteraria attraverso un'estesa analisi dei suoi capolavori più noti come The Brotherhood of the Grape e Ask the Dust, ma anche di opere minori e incompiute come The Little Brown Brothers, "My Dog Stupid" e The Road to Los Angeles. Attraverso un approccio intersezionale e l'uso di strumenti della critica postcoloniale, questo studio mette in dialogo i protagonisti italoamericani con gli altri gruppi etnici presenti nei lavori dello scrittore, facendo emergere l'articolazione dell'etnicità con le categorie di razza, classe e genere. Alla centralità della cultura di discendenza, visibile nell'analisi della figura paterna, si affianca così lo studio di personaggi come la chicana Camilla Lopez, i filippini Julio Sal e Cristo Sierra, o il cane giapponese Stupido, che gettano luce su un interesse per le molteplici diversità americane. Ne esce un'immagine di John Fante come scrittore della complessa negoziazione identitaria negli USA, che ne espande l'importanza ben oltre il ruolo di padre della letteratura italoamericana.

Elisa Bordin è ricercatrice di Letteratura angloamericana presso l'Università Ca' Foscari di Venezia. I suoi campi di ricerca riguardano il genere western, a cui ha dedicato la monografia Masculinity & Westerns: Regenerations at the Turn of the Millennium (2014); la letteratura delle minoranze e della migrazione, con particolare attenzione alla letteratura italoamericana e chicana; gli studi critici sulla razza, con specifico riferimento al lascito culturale della schiavitù nel presente. Su quest'argomento, ha curato con Anna Scacchi il volume Transatlantic Memories of Slavery: Remembering the Past, Changing the Future (2015) e A fior di pelle. Bianchezza, nerezza, visualità (2017, con Stefano Bosco). Fa parte della redazione di «Ácoma», «Iperstoria» e «From the European South».
Reviews
There are yet no reviews for this product.