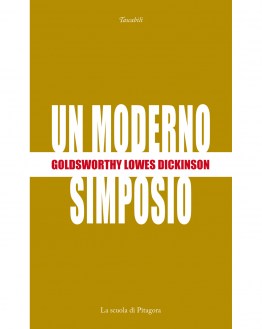 Un moderno simposio (e-book)
SKU: 9788865424650
Product in stock
Autore: G. Lowes Dickinson
Traduzione e cura di Claudio Spadaccini
ISBN 978-88-6542-465-0
Pagine: 160
Anno: 2016
Formato: 12 x 19,5 cm
Collana: Tascabili, 1
Supporto: file PDF (528 Kb)
A Modern Symposium è un dialogo ispirato alla tradizione platonica nel quale Goldsworthy Lowes Dickinson immagina che nei primissimi anni del ventesimo secolo dodici personaggi della cultura, della politica e dell'establishment britannici appartenenti a un club londinese chiamato The Seekers si riuniscano in una villa nella campagna inglese ed espongano le proprie idee sulla politica, la società, la letteratura e l'arte. L'insieme dei loro interventi costituisce un lucido ritratto culturale ed ideologico della nazione britannica e più generalmente d'una civiltà europea in preda a speranza e paura per il futuro da una parte e velata nostalgia per un passato rassicurante ma già irrimediabilmente perduto dall'altra. Quando il libro apparve nel 1905 Bertrand Russell scrisse ad un'amica: "È uscito il nuovo libro di Dickinson, A Modern Symposium. È splendido… devi senz'altro leggerlo".

Goldsworthy "Goldie" Lowes Dickinson nacque nel 1862 a Londra. Nel 1881 s'iscrisse alla facoltà di lettere classiche del King's College di Cambridge. Dopo essersi laureato anche in medicina, ritornò agli studi umanistici e grazie ai suoi lavori sul neoplatonismo, ai quali aveva atteso mentre frequentava la facoltà di medicina, gli fu assegnata la cattedra di storia al King's College, ove nel 1896 divenne professore di Scienze Politiche.Frequentò il Bloomsbury Group e fu amico di Bertrand Russell, del pittore Roger Fry, di Virginia Woolf e di altre importanti personalità della vita culturale inglese a cavallo dei due secoli. Nel 1914 per rispondere alla barbarie della Prima Guerra Mondiale ispirò e contribuì a fondare il Bryce Group, un gruppo di studio che l'anno seguente assunse il nome di League of Nations Society e alla fine del conflitto costituì una delle fonti d'ispirazione per la fondazione della Società delle Nazioni. Dickinson morì il 3 agosto del 1932. Nel 1934 apparve la sua biografia scritta dall'amico E. M. Forster.
Reviews
There are yet no reviews for this product.