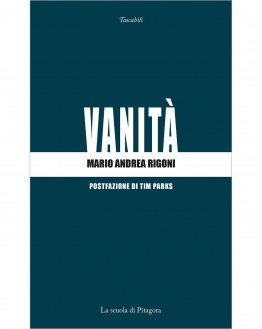 Vanità
SKU: 9788865428047
Product in stock
Autore: Mario Andrea Rigoni
Postfazione di Tim Parks
ISBN 978-88-6542-804-7
Pagine: 128
Anno: 2021
Formato: 12 x 19,5 cm
Collana: Tascabili, 10
Supporto: libro cartaceo
«La storia della vanità è la storia del mondo».
Mario Andrea Rigoni (Asiago, 1948) è professore emerito di Letteratura italiana dell'Università di Padova. Studioso di Leopardi (recente l'ennesima ristampa del suo fondamentale libro Il pensiero di Leopardi, La scuola di Pitagora, 2020), amico, corrispondente e traduttore di Cioran, collaboratore delle pagine culturali del «Corriere della Sera», è saggista, critico, autore di opere erudite, di racconti e di aforismi. Il suo ultimo è un libro di poesie, Colloqui con il mio demone, postfazione di Francesco Zambon (Elliot Edizioni, 2021).
Tim Parks (Manchester, 1954) è narratore, saggista, traduttore di vari scrittori italiani e teorico della traduzione. Ha pubblicato diciotto romanzi e moltissimi scritti di carattere letterario, alcuni anche di significato storico-antropologico in relazione all'Italia e agli italiani. È regolare quanto prestigioso collaboratore della «New York Review of Books», della  «London Review of Books» e del «New Yorker».
Reviews
There are yet no reviews for this product.