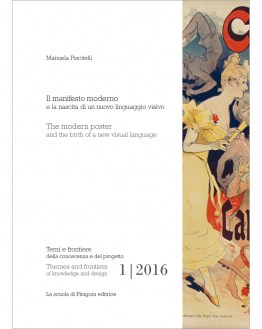 Il manifesto moderno e la nascita di un nuovo linguaggio visivo (e-book)
SKU: 9788865423974
Product in stock
The modern poster and the birth of a new visual language
Autrice: Manuela Piscitelli
ISBN 978-88-6542-397-4
ISSN 2724-3699
Pagine: 194
Anno: 2016
Formato: 15 x 21 cm
Collana: Temi e frontiere della conoscenza e del progetto, 1
Supporto: file PDF (10.20 Mb)
Il linguaggio grafico e dell'immagine può essere inteso come strumento retorico attraverso il quale i grafici determinano un sistema di significati, e conferiscono un'attribuzione di senso da parte di chi guarda. Questi linguaggi mutano il proprio senso nel tempo, ma costruiscono comunque un'iconologia dell'immagine destinata a fissarsi e collocarsi nei più diversi contesti ed influenzare la lettura e la percezione delle opere successive.
Obiettivo di questo volume non è quello di ripercorrere la storia del manifesto, quanto di riflettere sui modi in cui è nato e si è affermato un nuovo linguaggio visivo in epoca moderna, e sulle caratteristiche semantiche, espressive, simboliche che sono andate a definirlo ed ancora oggi rivestono un ruolo centrale nella comunicazione grafica.

The graphic and image language can be interpreted as a rhetorical tool, through which the graphic designers determine a system of meanings, and give an attribution of sense to the viewer. These languages changed their meaning over time, but build an iconology of the image destined to be fixed and placed in different contexts, and to affect the reading and the perception of later works.
The aim of this book is not to retrace the history of posters, but to reflect about the ways in which it was born, establishing itself as a new visual language in the modern era, and about the semantic, expressive, and symbolic features that defined it and still today play a central role in the graphic communication.
Reviews
There are yet no reviews for this product.