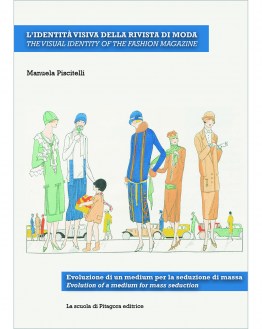 L'identità visiva della rivista di moda (e-book)
SKU: 9788865427415
Product in stock
Evoluzione di un medium per la seduzione di massa / The visual identity of the fashion magazine. Evolution of a medium for mass seduction
Autore: Manuela Piscitelli
ISBN 978-88-6542-741-5
ISSN 2724-3699
Pagine: 220
Anno: 2020
Formato: 15 x 21 cm
Collana: Temi e frontiere della conoscenza e del progetto, 9
Supporto: file PDF (6.2 Mb)
Da luogo di trasmissione della moda francese attraverso la riproduzione dei figurini provenienti da Parigi, a strumento di comunicazione di stili e atmosfere della moda contemporanea, la rivista di moda si pone come un artefatto comunicativo in costante evoluzione e trasformazione, specchio della società, dei suoi modelli e dei suoi desideri. Le trasformazioni della rivista di moda, in oltre 200 anni di storia, documentano le evoluzioni di tecniche grafiche e comunicative da una parte, di stili e tendenze dall'altra. Scopo della pubblicazione è analizzare questa modalità di comunicazione, dal punto di vista visivo e grafico, e le sue trasformazioni nel tempo.

From a source of transmission of French fashion through the reproduction of fashion plates from Paris, to an instrument of communication of styles and atmospheres of contemporary fashion, the fashion magazine sets itself as a communicative artefact in constant evolution and transformation, mirroring society, its models and its desires. The transformations of the fashion magazine, in over 200 years of history, document the evolutions of graphic and communication techniques on the one hand, and of styles and trends on the other. The purpose of the publication is to analyse this mode of communication, from a visual and graphic point of view, and its transformations over time.
Reviews
There are yet no reviews for this product.