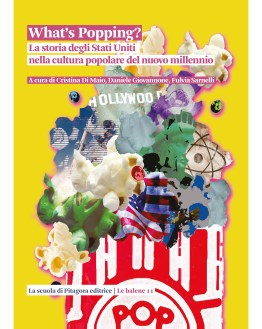 What's Popping? (Open Access)
SKU: 9788865428528
Product in stock
La storia degli Stati Uniti nella cultura popolare del nuovo millennio
Autori vari
A cura di Cristina Di Maio, Daniele Giovannone, Fulvia Sarnelli
ISBN 978-88-6542-852-8
Pagine: 240
Anno: 2022
Formato: 15 x 21 cm
Collana: Le balene, 11
Supporto: file PDF (2.3 Mb)
Gli Stati Uniti, il paese che per stereotipo sarebbe nato "senza storia", sembra mai come in questo momento ossessionato dal racconto del proprio passato. Non si tratta di una produzione narrativa strettamente rivolta agli addetti ai lavori della ricerca storiografica. Al contrario, negli ultimi anni eventi e personaggi realmente esistiti affollano proprio quei generi narrativi tradizionalmente rivolti al grande pubblico: le serie tv, i fumetti, i blockbuster cinematografici. I saggi raccolti in questo volume si propongono di indagare criticamente questa variegata produzione culturale. La revisione in chiave pop degli eventi cardine della storia americana ha lo scopo di sfidare o riaffermare le interpretazioni storiche, politiche, e ideologiche del passato? Quali sono le connessioni ideologiche e artistiche che si instaurano tra passato e presente, realtà e fiction, tra la memoria storica e la sua rifunzionalizzazione culturale nel contesto americano? La cultura popolare ci aiuta a rileggere sia gli Stati Uniti – ovvero la nazione reale – sia l'America – lo spazio culturale immaginato.
INDICE
Ringraziamenti
Introduzione di Fulvia Sarnelli, Daniele Giovannone, Cristina Di Maio
POP SIDE STORIES
Il Presidente e il Papero: Theodore Roosevelt in The Life and Times of Scrooge McDuck di Daniele Giovannone
Da distruttore di mondi a salvatore dell'umanità: le due facce della scienza in The Oppenheimer Alternative di Robert J. Sawyer di Valentina Romanzi
Il Gladiatore e l'orda barbarica: Roma e Cartagine dalla battaglia nel Colosseo alla fondazione del Nuovo Mondo di Enrico Botta
AVANTI, POP!
L'America e i suoi mostri tra fine Novecento e inizio secolo: attacchi alieni, attivismo hawaiano e cultura pop in Lilo&Stitch di Fulvia Sarnelli
Lunghezze d'onda e reazioni antifemministe in Mrs. America di Cristina Di Maio
NUOVE FORME PER VECCHI INCUBI
Reconstructing the Collective Memory: narrativa del consenso e rituali di auto-rifondazione in Guess Who's Coming to Dinner? e Loving di Agnese Marino
Gone to Texas: Tropes of American Violence in Preacher di Chiara Patrizi
"The Haunter[s] of the Dark": gotico, terrore e razza in Lovecraft Country di Marco Petrelli
Note biografiche
Reviews
There are yet no reviews for this product.