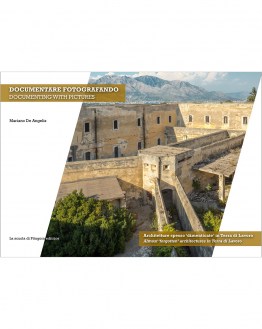 Documentare fotografando (e-book)
SKU: 9788865423998
Product in stock
Architetture spesso 'dimenticate' in Terra di Lavoro
DOCUMENTING WITH PHOTOGRAPHS
Almost 'forgotten' architectures in Terra di Lavoro
Autore: Mariano De Angelis
Prefazione di Danila Jacazzi
ISBN 978-88-6542-399-8
ISSN 2724-3699
Pagine: 188
Anno: 2020
Formato: 29,7 x 21 cm
Collana: Temi e frontiere della conoscenza e del progetto, 11
Supporto: file PDF (41.6 Mb)
In questo volume, Mariano De Angelis documenta fotograficamente diverse tipologie edilizie fra architetture religiose, residenziali, civili e fortificate sparse in un territorio vasto compreso fra Caserta, Frosinone, Latina e Napoli.
Una documentazione significativa sia per il numero delle realtà storiche documentate che per il complesso e difficile rilievo fotografico.
Grave stato di abbandono fisico delle architetture e ubicazione in luoghi di impervio accesso o addirittura inaccessibile hanno richiesto anche riprese aeree da drone. In tal senso, questi beni 'quasi dimenticati' sono oggi diventati 'visibili' a tanti attraverso una documentazione che, con gli inusitati scatti qui pubblicati, hanno reso speciali queste fotografie per la singolarità dei punti di vista altrimenti impossibili.
Scatti fotografici, che si trasformano in un monito di testimonianze storiche che potrebbero andare perse per sempre se non si interverrà con programmi di salvaguardia e restituzione d'uso alla collettività.
In this volume, Mariano De Angelis photographically documents different types of buildings including religious, residential, civil and fortified architectures located in a vast territory between Caserta, Frosinone, Latina and Naples. A significant documentation both for the number of documented historical realities and for the complex and difficult photographic survey.
Severe state of physical abandonment of the architecture and location in difficult or in inaccessible places have required aerial shots from drones.
In this sense, these 'almost forgotten' assets have now become 'visible' to many through documentation that, with the unusual shots published here, have made these photographs special due to the singularity of the points of view otherwise impossible.
Photographic shots, which turn into a warning of historical testimonies that could be lost forever if there is no intervention with safeguarding programs and restitution of use to the community.
Reviews
There are yet no reviews for this product.