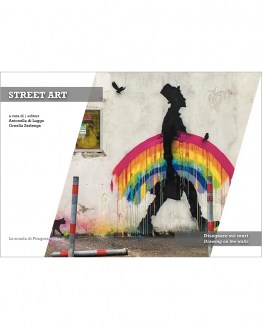 STREET ART (Open Access)
SKU: 9788865423967
Product in stock
Disegnare sui muri/Drawing on the walls
A cura di: Antonella di Luggo e Ornella Zerlenga
ISSN 2724-3699
ISBN 978-88-6542-396-7
Pagine: 539
Anno: Dicembre 2020
Formato: 21,7 x 21 cm
Collana: Temi e frontiere della conoscenza e del progetto, 13
Supporto: file PDF (138 Mb)
Nella comunicazione di massa, da sempre i muri delle città hanno svolto un ruolo rilevante nell'essere portatori di messaggi visivi: dalle epigrafi romane al muralismo messicano, alla pittura murale di propaganda, ai ben noti graffiti e, oggi, alla Street Art e/o arte pubblica.
La finalità di questa arte murale cambia: non più imbrattamento di muri ma costruzione di un senso di bellezza (dove non c'è) per favorire l'appartenenza a luoghi periferici e/o degradati, attivare programmi di rigenerazione fisica e sociale, incentivare l'appartenenza ai luoghi e il turismo culturale.
Oggi, il dilagante successo di quest'arte murale apre a nuove e più critiche considerazioni come l'impermanenza di questa arte e l'eventuale necessità di preservarla così come il rischio di eventi mediatici, che insidia il carattere identitario di quest'arte murale rappresentato da spontaneità e illegalità.
Visto il notevole successo che questo argomento ha riscosso all'indomani del lancio della call da parte della rivista scientifica internazionale di architettura e patrimonio culturale DisegnareCON (n. 24, 2020) in più comunità scientifiche, il presente volume ne è prosieguo e raccoglie riflessioni e testimonianze su questi aspetti in cui il disegno, nella sua accezione più ampia, si fa ampio orizzonte di argomenti da esplorare e si conferma quale forza espressiva universale e, al contempo, motrice creativa di un racconto per immagini visive.
In mass communication, city walls have always played an important role in being carriers of visual messages: from Roman epigraphs to Mexican muralism, the mural paintings of propaganda, well-known Graffiti and, today, Street Art and/or Public Art.
The purpose of this mural art changed: no longer the soiling of walls but rather the construction of a sense of beauty (where there is none) to favor belonging to peripheral and/or degraded places, activate physical and social requalification, encourage belonging to places and tourism cultural.
Nowadays, the widespread success of this mural art opened up new and more critical considerations such as the impermanence of this art and the need to preserve it as well as the risk of media events that undermines the identity nature of this mural art or spontaneity and lawlessness.
Given the considerable success that this topic received after the launch of the call by the international architecture and cultural heritage journal DisegnareCON (n. 24, 2020) in multiple scientific communities, this volume is a continuation and collects considerations and testimonies on this aspects in which drawing, in its wider sense, becomes an extensive horizon of topics to be explored and confirms itself as a universal expressive force and, at the same time, creative driving force behind a story based on visual images.
Reviews
There are yet no reviews for this product.