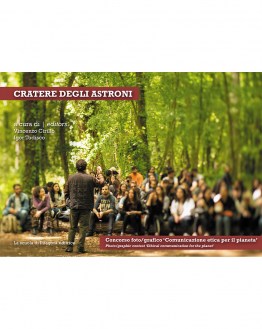 Cratere degli Astroni / Crater of Astroni (Open Access)
SKU: 9788865427880
Product in stock
Concorso foto/grafico 'Comunicazione etica per il pianeta'
Photo/graphic contest 'Ethical communication for the planet'
A cura di Vincenzo Cirillo e Igor Todisco
ISBN 978-88-6542-788-0
ISSN 2724-3699
Pagine: 166
Anno: Novembre 2020
Formato: 21 x 14,8 cm
Collana: Temi e frontiere della conoscenza e del progetto, 12
Supporto: file PDF (72 Mb)
All'interno della Terza Missione e degli interventi di public engagement, il protocollo d'intesa firmato fra il Dipartimento di Architettura e Disegno Industriale e la Riserva Naturale Statale Cratere degli Astroni – Oasi WWF e il conseguente progetto di comunicazione foto/grafica nascono da un interesse etico-culturale-formativo del Dipartimento verso i temi dell'ambiente, meglio del Pianeta che la nostra specie abita e di cui, oltre ad esserne indiscutibilmente parte, è purtroppo unica responsabile per scelte spesso sbagliate e danni a volte irrimediabili.
L'impegno profuso nella redazione di un concorso aperto agli studenti del Corso di Laurea triennale in 'Design e Comunicazione' dell'Università della Campania 'Luigi Vanvitelli', nell'ottica di interagire e cooperare con un territorio 'naturale' nel vero senso della parola, non solo è stato rilevante, ma di gran lunga emozionante. Il concorso si è formalizzato in un progetto per una campagna foto/grafica da veicolare sui canali social network e ha avuto come oggetto di comunicazione la Riserva degli Astroni.
Ciò ha significato avere consapevolezza di questioni, critiche e centrali, rispetto ai limiti delle attuali politiche di sviluppo economico e di quanto queste agiscano negativamente sui cambiamenti ambientali. In tal senso, attraverso la comunicazione foto/grafica oggetto del concorso, gli studenti hanno espresso molto di più di un prodotto di design in quanto 'questo' prodotto si è trasformato in un 'manifesto' etico capace di veicolare un'idea nuova di un design che si occupa sempre più della forma sostenibile dell'esistenza multispecifica per un'economia sorretta dal rispetto dei diritti umani e, più in generale, del diritto alla vita 'sul-e-del pianeta'.
Within the Third Mission and the public engagement interventions, the Memorandum of Understanding signed between the Department of Architecture and Industrial Design and the Riserva Naturale Statale Cratere degli Astroni – Oasi WWF and the consequent photo/ graphic communication project arise from a the Department's ethical-cultural-educational interest in environmental issues, better than the Planet that our species inhabits and of which, in addition to being unquestionably a part of it, unfortunately it is solely responsible for often wrong choices and sometimes irreparable damage.
The commitment made in the preparation of a competition open to students of the three-year degree course in 'Design and Communication' of the University of Campania 'Luigi Vanvitelli', with a view to interacting and cooperating with a 'natural' territory in the true sense of word, it was not only relevant, but vastly exciting. The competition was formalized in a project for a photo/graphic campaign to be conveyed on social network channels and had the Astroni's reserve as its object of communication.
This has meant being aware of critical and central issues with respect to the limits of current economic development policies and how these negatively affect environmental changes. In this sense, through the photo/graphic communication object of the competition, the students expressed much more than a design product as 'this' product has been transformed into an ethical 'manifesto' capable of conveying a new idea of ​​a design that is increasingly concerned with the sustainable form of multi-specific existence for an economy supported by respect for human rights and, more generally, the right to life 'on-and-on the planet'.
Reviews
There are yet no reviews for this product.